Legends – Keith Haring
Keith Haring's body of work wasn't all just dancing figures and 'radiant babies'. For many he also brought gay art and safe sex onto the streets and into the galleries
If you were around in the nineties, you might have seen a t-shirt, poster or ad with this on it.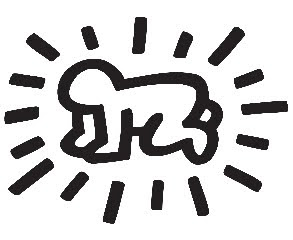 Or maybe this.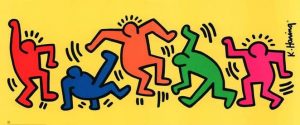 Or perhaps this.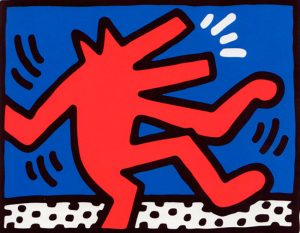 What you might not know is that this work was the product of Keith Haring, a geeky gay American artist whose work would not only define the '90s, but would also incorporate gay sexuality and AIDS awareness into art in a way not seen before or since.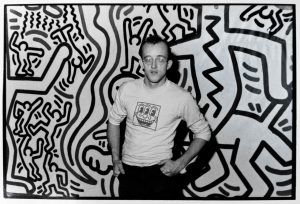 A native of Pennsylvania, Haring's love of art and illustration was inspired by influences ranging from Picasso to Walt Disney. Moving to New York City at the end of the '70s, the music and omnipresent graffiti art of the streets had a strong impact on the young artist, and he soon became known for tagging subway blackboards with what would evolve into his iconic line drawings. He'd be arrested on several occasions for vandalism, though it was hard to make any charges stick given his favoured medium on these surfaces was easily wipeoffable chalk.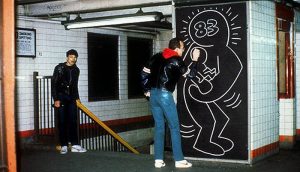 These public works and others would attract the attention of the art intelligentsia, and Haring and his contemporaries such as Jean-Michel Basquiat were soon being feted by the likes of pop-art guru Andy Warhol. One of Haring's friends during this time — an ambitious singer/dancer from Detroit who occasionally slept on his couch — would also get swept up in this creative atmosphere and soon enjoy her own success as Madonna.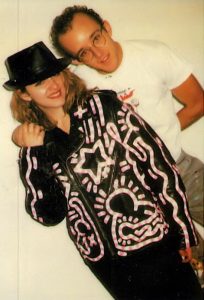 For most gay men the '80s and '90s were polarised decades. They personified freedom of sexuality and sexual identity, coupled with a fierce battle for survival as AIDS cut a swathe through communities worldwide. Haring's work mirrored this struggle, its joyousness only surpassed by its explicitness as tableaus of playful figures and barking dogs sometimes jostled for space next to giant dicks.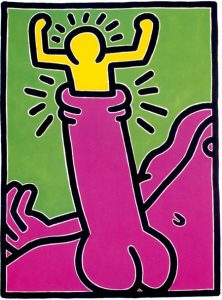 The decade was also when Haring was most productive and his work most popular, and for many his work defined the era. Apart from the streets, his work appeared in exhibitions, clothes, advertising, clothing, even a section of the Berlin Wall. A visit to Melbourne in 1984 saw him render a massive mural at the then-Collingwood Technical School, one of less than 30 large-scale murals by the artist that survive today.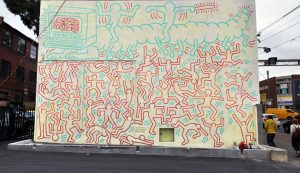 People were also his canvas— actor/singer Grace Jones would appear in movies, photoshoots and on stage painted in Haring's designs, and you can even see the man himself working on one of her typically subtle outfits in her 'I'm Not Perfect' music video.
Despite his new-found fame and celebrity, Haring remained fiercely committed to social change, donating his time and work to groups and causes like National Coming Out Day, World AIDS Day and ACT UP. When diagnosed with HIV in 1987 — a time when the disease was still a source of fear and apprehension — Haring was candid about it, creating artwork specifically for HIV awareness and safe sex campaigns that were unapologetically in-your-face. Even in Australia it wasn't uncommon to see his designs pop up on similarly-targeted campaigns back in the day.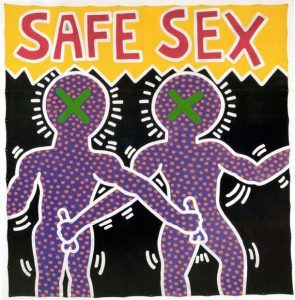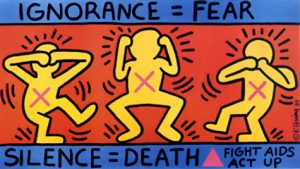 Haring continued working right up until his eventual death in 1990 from AIDS-related complications. He remains probably one of the only artists who combined artistic expression and commercialism with a fierce advocacy for gay rights and HIV awareness. "Art is nothing if you don't reach every segment of the people," he said. "Art is for everybody."
Almost thirty years on Haring's legacy continues to motivate other gay artists, and his influence can be seen in works of all types today. Do you have a favourite that inspires you or the GLBTI community? Let us know!
---