THE ORIGINAL GIANT CONDOM
Early in the morning on the 7th of November, Sydney's obelisk in Hyde Park was mounted and wrapped in 18 metres of condom-like pink cloth. For one week the obelisk stood not as a tribute to our fine city's sewage works but rather as a bastion of safe sex. The condom-adorned obelisk quickly became Australia's hottest talked about phallic symbol. The stunt from ACON was seen in over 40 different countries, thousands of Sydney-siders shared images of it on Facebook and Instagram and over 10 million people saw it via social media.
Since the outbreak of the HIV epidemic, condoms have been tirelessly promoted and for good reason too, we know they are a valuable tool for HIV prevention. Yet very few campaigns have achieved the same kind of visibility and attention as Sydney's Giant Condom.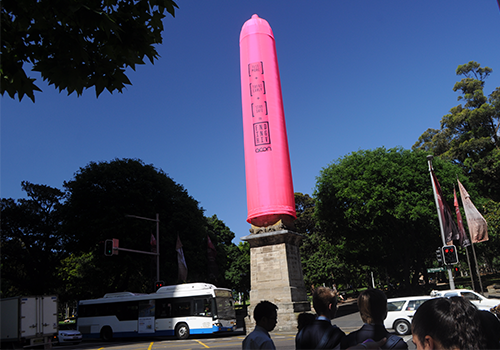 So how come it hadn't been done before? There's no shortage of phallic objects globally. Why hadn't anyone thought to stretch out some rubber over the Leaning Tower of Pisa, the Eiffel Tower or the Washington Monument? Truth is, ACON was not the first organisation to do this; we had to step back in time to 1993 to see where it all began.
1993 was the year Bill Clinton became President of the United States, Buckingham Palace opened its doors to the public and also the major announcement that Sydney would host the Olympic Games in the year 2000.
By 1993 HIV had infected 14 million people. Princess Di publicly predicted that by the year 2000, 40 million people would be infected. AZT resistant strains of HIV began to emerge and the virus rapidly spread throughout the Asia Pacific Region. 'Time to Act' was the theme of the 1993 World AIDS Day and little did World AIDS organizers know that someone would take this suggestion quite literally.
On the 1st of December 1993 ACT UP Paris with financial support from The United Colors of Benetton executed "operation giant condom", commando style, in the middle of Paris' most public square.
Within a matter of minutes Cleopatra's needle in the centre of the Place de la Concorde at the base of the Champs-Elysees was transformed from a national monument into a national symbol of awareness and prevention.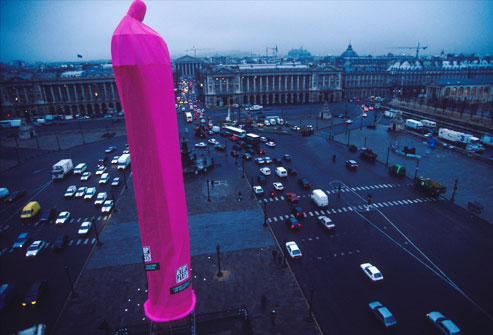 Although only in place for a fleeting moment before authorities ordered it to be removed, this guerrilla stunt made ripples worldwide. The master mind behind the action, Mariana Galanti, said that she "wanted to show that AIDS was a problem that penetrated society." Mariana recognized that communicating awareness was essential to prevention, and for this reason she ensured that condoms pervaded future Benetton campaigns.
She sought to demystify them by displaying them as a modern fashion accessory, by having condoms given out for free at Benetton stores and that they were arranged in beautiful patterns in Benetton ads.
Fast-forward to 2014 and the face of the HIV epidemic has changed dramatically. We now have treatments that are more effective than ever. We are learning more about the promising prospect of using HIV treatment as prevention. We have access to rapid HIV testing and more and more people are getting tested every year. Finally it looks as if we've got a real shot at ending HIV.
So what part have condoms had to play in all of this? They've played a massive part! From 1993 to 2014 condoms have been the friend of HIV prevention. They've delivered us to a point in time at which we can now feel optimistic about controlling the spread of HIV and now more than ever we need to remember how important it is to keep using them. Why? Without condoms alongside testing more and treating early, we won't be able to achieve our goal of ending the HIV epidemic.
Condoms were essential to HIV prevention in 1993 and they are just as important in 2014.
---