Watch: 4 Great Anti-homophobia Campaigns People Are Talking About
Homophobia and discrimination against LGBTI communities continues to be a big issue around the world. However we can gladly see more and more people coming together and taking a stance against homophobia and anti-discriminatory laws.
Here's a list with 4 of the most popular anti-homophobia campaigns we've seen over the past few months – many of these featuring celebrities and other community champions coming together in support of this worthy cause.
1. #RainbowLaces
LGBTQ charity Stonewall teamed up with Arsenal and other organisations to release a new video featuring Arsenal players showing their support to help end homophobia in sport, with a campaign called #RainbowLaces.
'Together we can change the game' is the main message of this campaign.
The video features Alex Oxlade-Chamberlain, Theo Walcott, Santi Cazorla, and Mikel Arteta, as well as Olivier Giroud, who was voted sexiest player of the year by French gay magazine Têtu.
The campaign has gained a lot of traction and support on social media in only a few days!
Watch full video here:
2. You Can Play
You Can Play is an Australian national anti-homophobia in sports initiative which promotes safe, fair and inclusive sport.
The campaign has brought together all the major professional sports in Australia and allowed them to collectively commit to implementing policies that will make their sports welcome to lesbian, gay and bisexual people.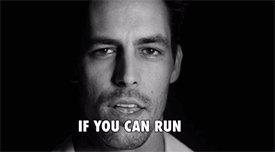 Watch the full video below, featuring some of the most popular athletes in Australian sport:
3. Warwick Rowers Calendar
For the fifth year in a row, the Warwick Rowers team has stripped down and posed for the club's calendar, donating a portion of the proceeds to its charity Sport Allies, which fights homophobia and bullying.
Watch a sneak peek of this year's behind the scenes video here:
4. #MundPropaganda
Earlier this year, GQ Deutschland gathered 13 straight male German stars to make a bold statement against homophobia.
Titled "#Mundpropaganda"("word-of-mouth propaganda" in German), the campaign aims to set an example to fight intolerance of LGBT people.
"This is not like tilting against windmills. Constant dripping wears the rock away. And the more people speak about it, the more tolerance will spread," said Johannes Strate, after he literally tried to fit Jacob Sinn's face in his mouth.
Watch the behind-the-scenes video here:
---