Trans + Cis = GRUNT
Are you a trans man who's into other men? It's time for a bit of GRUNT.

GRUNT is the sexy new national campaign from PASH.tm and AFAO. It's all about supporting trans guys and their male sexual partners to keep it safe, keep it hot, and have awesome sex.
Trans guys and cis (non-trans) guys have been hooking up since…well, forever. But over the last few years, gay, bi and queer trans men are much more visible. Apps like Scruff have made it easier for trans guys to make their gender experience known and for cis guys to identify themselves as trans-attracted.
It's a sexual liberation among men, and it's amazing. And GRUNT is here to help.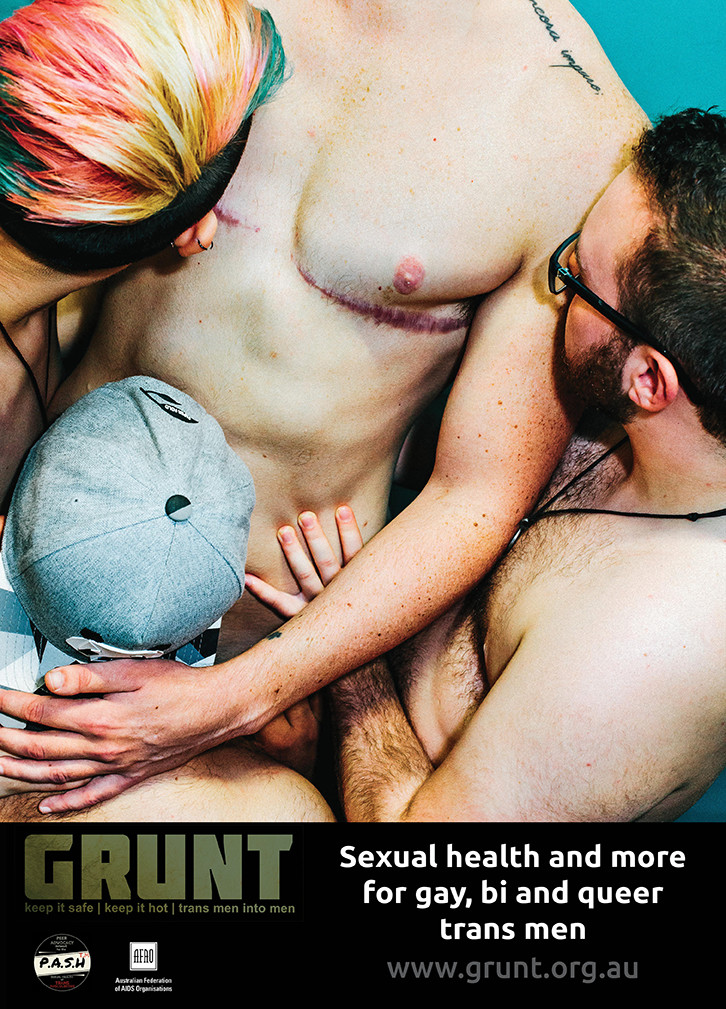 Unsure where to start? Here are GRUNT's five top tips to help cis guys and trans guys keep it hot!
Assumptions = massive turn-off
Trans guys are tops, bottoms, versatile, pigs, sweet lovers, power bottoms, doms, subs, switches and so much more.  Never assume that all trans guys are bottoms, or even into penetration.  Some prefer to let their fingers, fists and cocks do the talking. Some who bottom are up for anal sex only. Others like it in every hole they've got!
Watch the language
Be a gentleman. That's all. Confusion or uncertainty about what words or terms to use can be easily fixed through a quick online search. And respectful questions are much more likely to be answered, even if they might seem a bit awkward.
It's OK to mess up
If you put your foot in it and say something that doesn't go down very well, just say sorry. It's ok to ask what he likes, what he doesn't like, and how to make it hot  This includes talking about consent, boundaries, what kind of sex you're into, how you want to play, and how both of you will approach your sexual health.
Woof!
We'll let you in on a little secret. Sex with trans guys is superhot and we celebrate trans male sexuality. Seek and explore what you want, and do nothing you don't want to do. And what's more, cis guys who hook up, connect or enter a relationship with a trans guy don't need to question their sexuality for even one second. You're still super gay since trans guys are …wait for it…GUYS.
Have fun!
Doing something for the first time can take us out of our comfort zone. If you haven't played with a trans guy before and feel a bit unsure about what to do, don't worry. Follow these tips and you'll be having a great time in no time
Ted Cook, GRUNT campaign lead for PASH.tm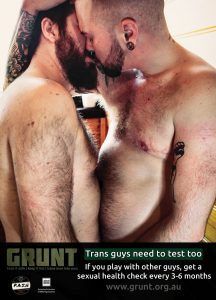 Want to know more? Check out the new GRUNT website (www.grunt.org.au), or be a part of the launch in your capital city.
MELBOURNE
Friday 23 September, 6.00pm
Equinox, 175 Rose St, Fitzroy
Co-hosted by VAC and Equinox Gender Diverse Health Centre
BRISBANE
Friday 30 September, 6.30pm
619-621 Stanley St Wollongabba
Co-hosted by QuAC
---