Peer-based approaches to HIV for gay men – Workshops
25 years is a long period of time. It's the length of time ACON has been providing gay and bisexual men with peer education on HIV/STI's in the context of pleasure, risk and sexual health.
This is the first in a series of posts examining the ways s that gay men support and learn from each other in our efforts to end the HIV epidemic – both the formal models used at ACON, but also the ways that we educate and support each other informally.
As a peer based organisation, we utilise a variety of peer based – or gay guy to gay guy – models. One of the main ways we do this is through workshops that give guys the chance to get into some often complex topics in an open, safe and comfortable space. "The interaction and fluid nature of discussion" and "shared experiences" was noted by one participant as a highlight of taking part in the workshop.
For some, this model of education might seem a bit tired or 'historic' but we believe it continues to have a vital role to play in building HIV-related knowledge and skills for a significant number of men in our community.
Knowledge and skills
Picking up a wealth of confidence-building information around HIV/STI's, sex and sexual health under the guidance of our facilitators allows men to explore information in greater detail than they otherwise might and to challenge themselves on the values and attitudes that they hold.
The opportunity to discuss the practical application of safe sex messages shouldn't be underestimated. For instance, while messages around the primacy of condom use, particularly in high risk situations, are vital and important, taking the time to think about and discuss times when condom use might be harder to implement and working out strategies to address those barriers ahead of time can be of immense value.
We help gay men and other men who have sex with men to improve their health, wellbeing and confidence by providing relevant knowledge, skills, resources and social networks. With this, they are able to inform their friends and become peer educators in their own right.
Gay guys talking to gay guys
The strength of peer education workshops is not only due to the fact that the workshops are peer based in terms of the membership of the group. The other key component to the success of this model (for us at least!) are the volunteer facilitators who are peers and as gay men, our participants can relate to. "Information, the wonderful people and experiences brought together by the two wonderful facilitators"  highlights the impact for one participant of having peer based facilitators.
There is a very different dynamic created when using a volunteer to facilitate rather than a staff member or specialist as we find that guys are more willing to put their points of view forward and debate rather than just accept what is being presented. "I think it should be compulsory for all gay men. I feel lucky to be part of a community that donated their time to help others".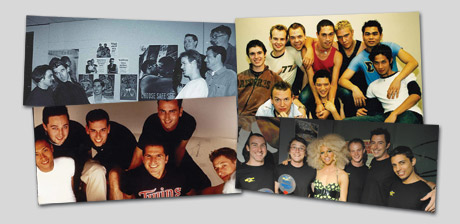 What we achieve
Of course, we also recognise that most guys aren't motivated to come along to an 'HIV' course so we structure our workshops around broader topics that many men find appealing. These include:
relationships,
sex,
community.
It is important to recognise that HIV transmission occurs in the context of gay men's social and sexual lives therefore these are topics that are important to explore in their own right.
Through peer education, we have the capacity to build confidence, reframe negative perceptions and experiences, transfer knowledge, strengthen skills and empower gay men to take ownership of their health and well-being.
Read more about the benefits of peer based programs here.
Find out more and register for ACON's peer education workshops here.
---