Testing testing, one, two… three
Some people will tell you that HIV testing is no laughing matter but if you read all the way to the end of this post I promise you a link to a humorous clip on testing.
In 2013 NSW is beginning to see the benefits of rapid HIV testing services that are rolling out across Sydney and in some large regional centres. For guys who live out of the city, rapid testing can now be another great reason to plan a trip to the city.
Australian gay men are actually pretty good at HIV testing. In NSW the Gay Community Periodic Survey showed that the proportion of men reporting having ever been tested for HIV is very high (89% in 2013). The proportion of non-HIV-positive men reporting a recent HIV test in the 12 months prior to the survey is relatively stable and was 71% in 2013. NSW gay men should be congratulated for these results. It is really encouraging and we want you to keep it up. The more you know about HIV testing the more confident you will be to get a test.
Gay men, like everybody else in the world, can put off things they do not want to do. The introduction of rapid testing may be removing some of the barriers to gay men testing. This 2008 campaign image from the Montana Gay's Men Task Force is amusing if not a little misleading. Most people will know that rapid testing is a bit more involved than putting on a shirt but it's certainly getting a lot more convenient.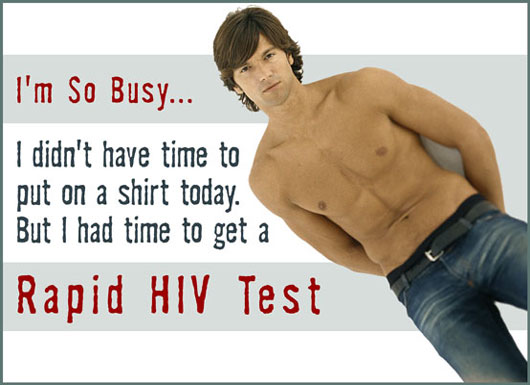 Rural gay men have many reasons to visit the city. A few days R&R, catch up with mates, go shopping, catch their favourite sporting team, see a show, go clubbing or head to a sex venue for some relaxation and intimacy or just to have a weekend away. Not that anybody necessarily needs to justify a city visit but, now you can add getting a rapid HIV test to the list. Don't get me wrong I know you can get tested in your home town and some regional settings offering rapid testing rapid testing now include Illawarra, Hunter and Northern Rivers. A partnership between Pacific Clinic and ACON Hunter is a great example of community based testing. If rapid testing is not available in your area it more than likely will be soon, but in the meantime make having a rapid test another reason to plan your next trip to the city.
Helpful tools
The benefits
HIV testing in community settings like a[TEST] and at sexual health centres is free for gay men. It only takes about 30 minutes in most places and when using a rapid test, you'll get your results at the same appointment. With the exception of ACON Hunter which offers a walk in service, you do need to book an appointment, but it's easy and the staff at a[TEST] are really friendly. Community based testing services offer peer-based testing, which is run by members of the community, with support and oversight from trained medical professionals.


Knowing your status enables you to be proactive about your health and if you test positive you can consider treatment options. For some people the thought of having an HIV test can bring up anxieties. Some of these are dealt with in a light hearted way by the crew at it gets betterish. On a more serious note some more common anxieties are addressed in this section of Ending HIV. Keep in mind help is always available. Talking to someone can make a real difference. A friend, a partner, or even a staff member at ACON can help relieve any anxiety you may experience.
Now about that laugh I promised you. Just for some context, home testing for HIV is available in other parts of the world like the U.S. and I expect it will be offered in Australia. It's just a matter of time. A seriously good laugh
---