This Mardi Gras, How Do You Do It?
We have come a great distance to arrive at this year's 40th Mardi Gras parade. From what started as a political protest and Day of International Gay Solidarity to what we know now as a festival of pride and celebration that is an international tourist attraction, Mardi Gras has changed and grown just as we have.
There is a lot to celebrate this year following the accomplishment of legalising same-sex marriage and with PrEP on the way to being made available at a subsidised cost, our community is in a radically different environment to where we were 40 years ago.
So let's look back and reflect on how far we have come, recount the advances we've made with HIV medicine and the hard won rights we have achieved. All of which have led us to today where we ask; how do you do it?
The First Mardi Gras
In June 1978 several hundred people gathered in Taylor Square; a march was organised to support international gay rights activists in what was Sydney's Day of International Solidarity. This would be a day of protest and awareness and a moment to be remembered for years to come.
At 10:30pm activist Lance Gowland drove a flat-back truck down Oxford St and the march began but turned into something else.
"…dancing to amplified music and chanting, 'Out Of The Bars & Onto The Streets'. Gowland drove slowly and stopped outside the bars, to draw the queens out and to let the revellers catch up. The police kept hassling him, so he turned into College St, stopped the flat-back and began to read telegrams. The police pulled him out of the cabin and arrested him. Some revellers tried to stop them. They tussled; Gowland escaped; the police confiscated the flat-back; Jeff Stanton and some GSG mates told the revellers to go to Kings Cross. The police called for back-up. The crowd surged up William Street and some people saw paddy wagons heading into Darlinghurst Road. Should they go into the Cross?"
An excerpt from 'Kings Cross Arts & Cultural Festival: What happened at Sydney's first Mardi Gras' 
By the end of the night police had arrested 53 people and incarcerated them in Darlinghurst Police Station. Many were beaten in their cells. Later that week, the Sydney Morning Herald would print the names, occupations and home addresses of those arrested, outing them and resulting in jobs being lost and families torn.
Over the next decade, momentum would build for gay rights, with many more protests and arrests. The decriminalisation of homosexuality would happen in NSW in 1984, but it wouldn't be until 1997 that it would occur across all Australian states and territories.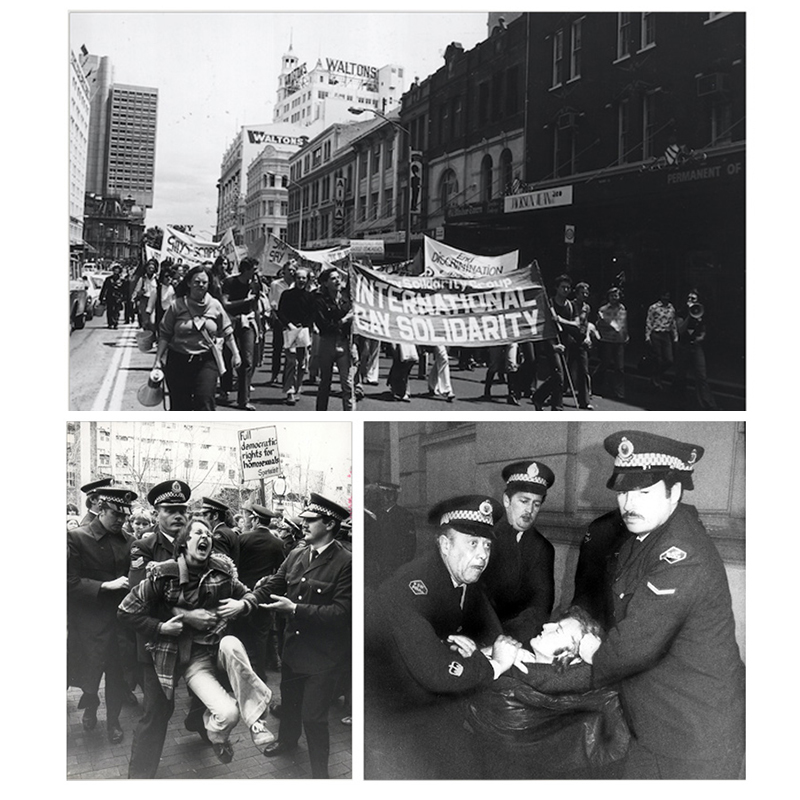 Photos credited to Australian Lesbian & Gay Archives
Unified in our fight against prejudice and violence the parade became a march which celebrated our diverse communities in the face of adversity, while providing an outlet to campaign for equality.
But a new threat was lurking around the corner.
Australia's first AIDS diagnosis
The year 1982 saw Australia's first AIDS diagnosis; Professor Ron Penny of St Vincent's Hospital in Sydney identified the first case of AIDS in Australia in an American. Internationally and locally, people would struggle with vilification based on status, and the words gay and AIDS would be used interchangeably.
Research was slow and information about prevention was almost non-existent. It was at this time that community groups made up of primarily gay men formed and started to disseminate posters and other education materials communicating steps that could be taken to reduce risk of transmission.
In 1983 at a meeting of gay doctors and gay community leaders in San Francisco, condoms became recommended as one way to reduce contact with bodily fluids including semen, urine, saliva and blood. The actual cause of transmission still unknown.
Meanwhile in Australia, representatives from over 20 gay groups in Sydney met together and established the AIDS Action Committee, which would later become the AIDS Council of NSW (ACON).
Mardi Gras too began to reflect the times. 1985 would see the theme for the parade as 'Fighting For Our Lives', putting AIDS at the forefront. The following year, ACON's first ever parade float would join to raise awareness about safe sex.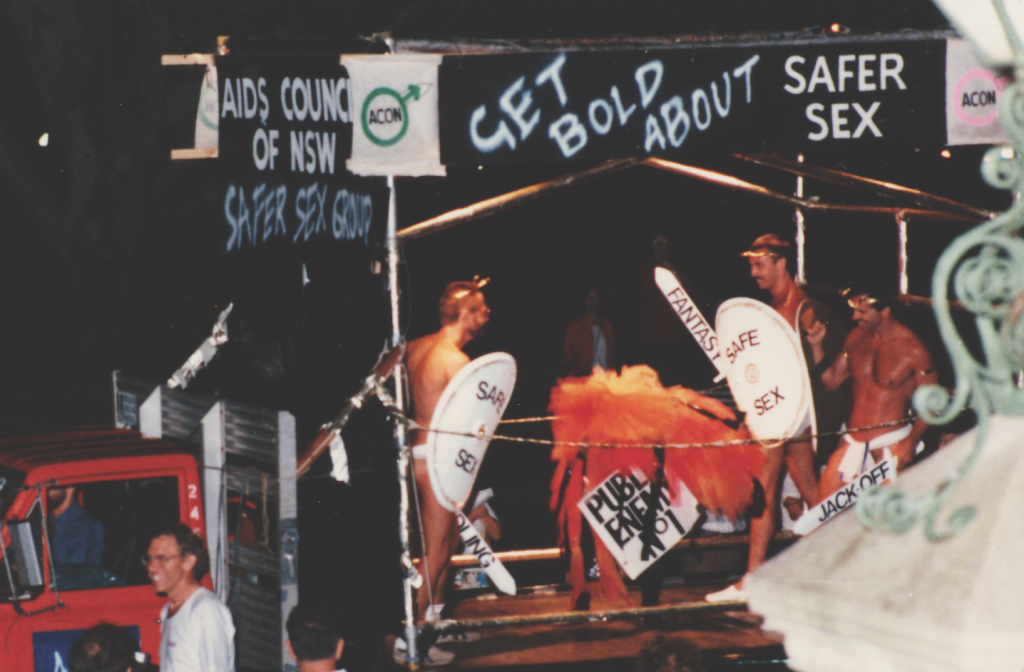 ACON's first Mardi Gras float, 1986. Photo credit: Star Observer
As years went on, the fight against HIV would be a recurring theme for the parade. At the peak of the HIV epidemic in the 90s, thousands of Australians had died from AIDS-related illnesses.
Decades would pass and we'd learn the cause behind AIDS was a virus called HIV. Tests that could detect HIV antibodies in one's body would be developed and treatments would be manufactured.
And so Mardi Gras became an avenue to raise awareness about HIV and AIDS; a topic often shunned by the media, while also a vehicle to promote safe sex education and combat stigma directed towards the gay community, and it is still that today.
HIV in Mardi Gras' 40th year
In 2018 we know that accessing treatment and achieving an undetectable viral load (UVL) has great health benefits as well as preventing HIV transmission. Treatment have transformed from multiple pills at regular intervals to as little as a single tablet once a day. In addition to condoms we are seeing great success in biomedical prevention; UVL and PrEP being highly effective ways to stay safe from HIV.
Each Mardi Gras we celebrate and remember those who have fought for equality, overcome persecution and made incredible sacrifices to bring us to where we stand today. However you choose to celebrate this Mardi Gras, stay safe.
You can look through a comprehensive timeline following the Sydney Gay and Lesbian Mardi Gras and it's history here.
---