HIV in Australia: the books behind the HIV/AIDS epidemic
Looking for a new book to add to the reading pile? Why not pick up Nick Cook's Fighting For Our Lives, which tells the inspiring and courageous story of how affected communities in NSW came together in the 1980s to respond to the AIDS crisis? You can grab a copy of the book at The Bookshop Darlinghurst, Gleebooks and all good bookstores and online retailers.
If you've been around on the scene for a while, you may be aware Fighting For Our Lives is just the latest publication in a long history of storytellers and historians who have been reflecting-back to us what it's been like living through the HIV/AIDS epidemic.
Considering the remarkable number of accounts out there, we've assembled a list of some of the most seminal works tackling life in the time of the HIV epidemic, both from a local and international perspective. You don't have to be an aspiring historian to pick up these books, so read below and find your next good read.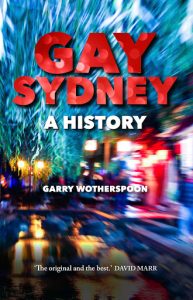 Gay Sydney: a history – Garry Wotherspoon
Written in the midst of the AIDS crisis, this book captures a number of shifts in Sydney's gay life. Find it here and in good bookstores.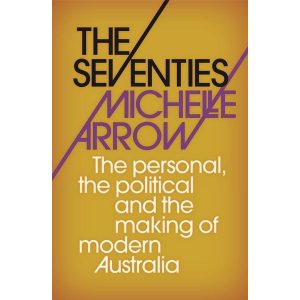 The Seventies – Michelle Arrow
Across the seventies, huge strides in social issues were made, and homosexuality was finally removed from the Australian Medical Association list of illnesses and disorders. Dive into the era pre-empting the AIDS crisis in Australia. Find this book here and in good bookstores.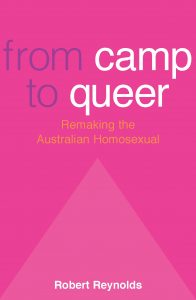 From camp to queer – Robert Reynolds
Following the history of a group of homosexual Australians in the 1970s who posed radical questions about sexuality and Australian culture and law, this book tackles the invention and re-invention of sexual identities from the 1970s to the 1990s. This book is currently out of print, though it may be possible to find it through a library or second-hand.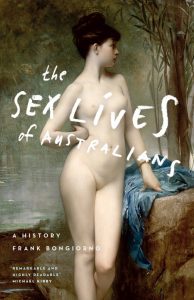 The sex lives of Australians – Frank Bongiorno
Frank Bongiorno tackles cross-dressing colonists, effeminate bushrangers and the evolving sex lives of Australians. How did historical and cultural attitudes to sex affect the sex-lives of those impacted by HIV? You'll have to read to find out. Find it online here or at good bookstores.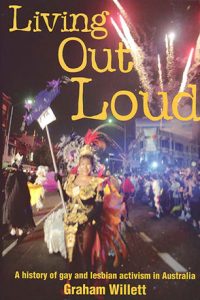 Living out loud – Graham Willett
What do Fred Nile, the Sisters of Perpetual Indulgence and the Lesbian Sex Wars have in common? They all get a mention in Graham Willet's history of activism in the Australian gay and lesbian movement. Find a copy online here.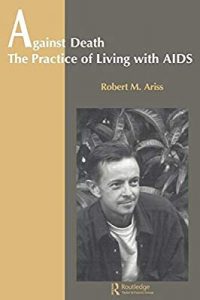 Against death: the practice of living with AIDS – Robert Ariss
Activist and academic Robert Ariss lived and worked through the HIV epidemic both in Australia and internationally. His book is a unique account of the HIV crisis and the community response that was born out of it. Find it online here.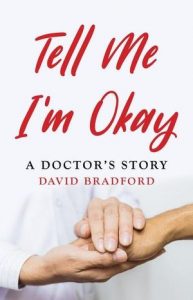 Tell me I'm ok – David Bradford
Written by gay sexual health and HIV/AIDS physician David Bradford, this book tells one doctor's story of the AIDS epidemic, his patients and their lives. Find this book here or at all good bookstores.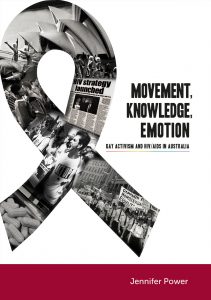 Movement, knowledge, emotion – Jennifer Power
When it comes to the HIV/AIDS epidemic, many look to the community activism that took place here in Australia, resulting in one of the most effective responses to HIV in the world. Jennifer Power's book examines this response and the social movement born out of this era. Find this book online here.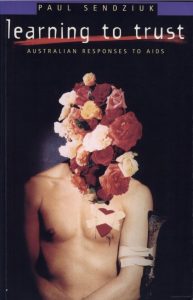 Learning to trust: Australian responses to AIDS – Paul Sendziuk
Another book covering Australia's response to the epidemic, Learning to Trust seeks to establish why it has been one of most effective responses in the world. Currently this book is out of print, though it may be possible to find it through a library or second-hand.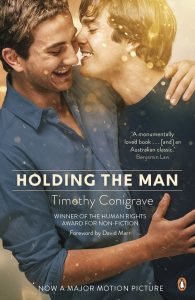 Holding the man – Timothy Conigrave
A classic Australian memoir, this book tells the story of Timothy Conigrave and his partner, John Caleo, weathering the early epidemic across Melbourne and Sydney. In 2015, this ground-breaking autobiography was made into an award-winning film. Find this book online or in bookstores.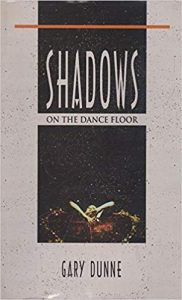 Shadows on the dance floor – Gary Dunne
This book is an insider's story of a community where illness and death are common aspects of day-to-day living. With its dry wit and humour this novel powerfully captures an Australian response to AIDS. Find it online here.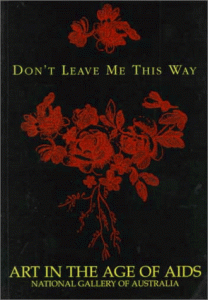 Don't leave me this way: art in the age of AIDS – Ted Gott
This text is the companion book to the 1994 exhibition at the National Gallery of Australia which showcased sculptures, paintings, poems, essays and more. At the time, it was the largest exhibition on HIV/AIDS in Australia. You can find it online here.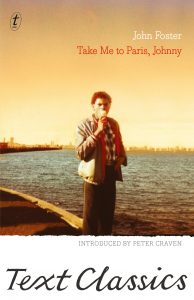 Take me to Paris Johnny – John Foster
In this memoir, a Cuban dancer meets an Australian historian, and a casual fling gradually becomes an international love affair that transforms the lives of two men. Buy it online here.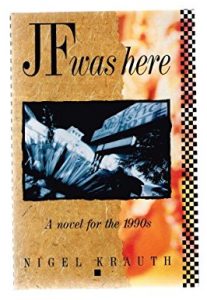 JF was here – Nigel Krauth
In this work of fiction, JF, confronted with the prospect of his own mortality, travels to a decaying resort, The Hydro Majestic to relive his past. This book is available online here.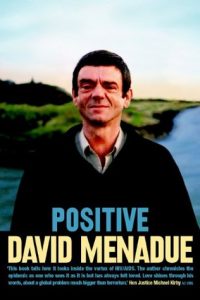 Positive – David Menadue
In a story about activism, optimism and resilience, journalist David Menadue reflects on being one of the first people to be diagnosed with HIV in Australia and the lifetime of activism that followed. Find this book online or at good bookstores.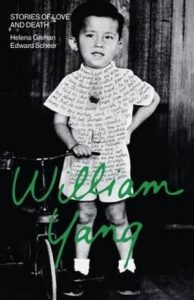 William Yang: Stories of Love and Death – Helena Grehan and Edward Scheer
William Yang is one of our communities' most prolific and acclaimed social photographers. This book provides a beautiful and personal insight into changing scenes of Sydney, questions of belonging in multicultural Australia and living through the HIV/AIDs crisis. A stunning book featuring 100 photographs from William Yang's archive. Available online here.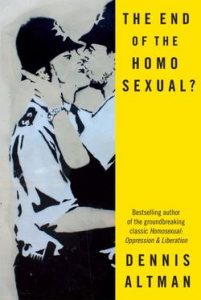 Power and community; the end of the homosexual? – Dennis Altman
Part memoir and part politics, Dennis Altman connects what has happened within the changing queer world over the past 40 years to larger social, political and cultural trends. Find this book online or in all good bookstores.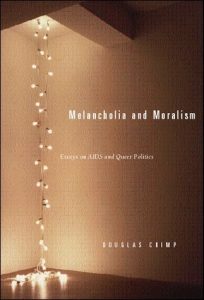 Melancholia and moralism – Douglas Crimp
In this book of essays, Douglass Crimp challenges the rise of conservative gay politics that followed the radical AIDS activism of the 1980s and early 1990s. Find the book online and in good bookstores.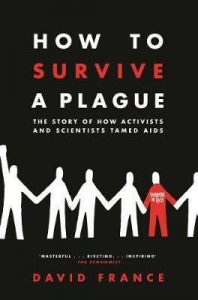 How to survive a plague – David France
This book is a renowned history on the start of the HIV pandemic, followed by the successive actions by activists, scientists and governments to stop the spread of HIV and support those living with HIV. Find it online and in all good bookstores.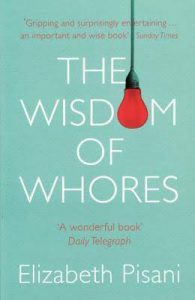 The wisdom of whores – Elizabeth Pisani
Read about the epidemic from whip-smart and funny epidemiologist Elizabeth Pisani, as she tells the story of working between communities of gay men, drug injectors, sex workers and health organisations. Find it online or in bookstores.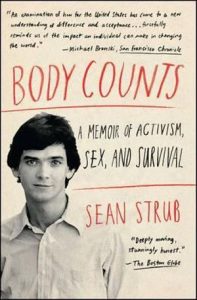 Body counts – Sean Strub
In his multi-decade memoir, Sean Strub shares "a captivating … eyewitness account from inside the AIDS epidemic". Find it online or in bookstores.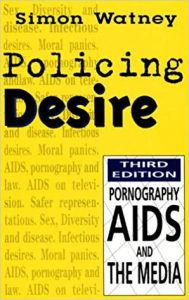 Policing desire: Pornography, AIDs and the Media– Simon Watney
There have been three editions of this seminal work on HIV/AIDs, homosexuality, censorship and media representation since it was first published in 1987. It's an important resource for anyone looking to better understand how the media changed the way it covered AIDS and HIV. This book is out of print, though it may be available through a library or second-hand.
Have we missed one? If you know of another book that we can add to the list, please get in touch by sending us an email.
---